Sailor Jerry is a truly iconic drink with a captivating spirit. Crafted in honour of Norman 'Sailor Jerry' Collins, who is widely regarded as the father of the old-school tattoo.
From his humble beginnings to becoming immortalised by his legacy with the great-tasting Sailor Jerry Spiced Rum we know today, this is the story of Norman Collins.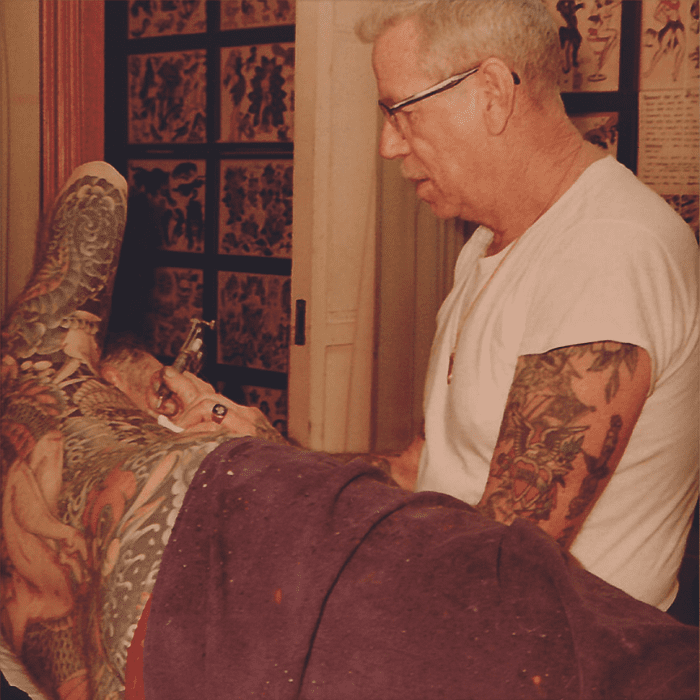 Who is Sailor Jerry?
Born Norman Collins in 1911, Sailor Jerry spent his early years in Nevada. Having left home at a young age, he grew up hitchhiking and train hopping around America, before learning how to tattoo in Chicago in the late 1920s.
Long before Collins became Sailor Jerry, he had an interest in tattoos and tattooing. So much so, he was tattooing freehand before learning his craft in the Windy City.
Aged 19, Sailor Jerry joined the navy and set sail to Asia, travelling around Japan and China. It was these inspiring trips that influenced the now iconic sailor jerry tattoos, and where he spent his time tattooing fellow sailors before honing his signature style – which now takes pride of place on every bottle of Sailor Jerry Spiced Rum.
Collins left the navy in the 1930s and moved to Hawaii, where his affiliation to Asian culture continued as he began tattooing in Chinatown. However, he re-joined the forces after the Japanese attack on Pearl Harbor, spending a year in the Merchant Marines.
On his return to Hawaii, Sailor Jerry opened a tattoo parlour in the Hotel St district of Honolulu. It was there that Sailor Jerry's tattoo of a hula girl became a popular choice for soldiers visiting the island and wanting to get a souvenir of their time spent there.
Adding to his collection, his designs of ships, hula girls, roses, and eagles are now globally recognised and have influenced tattoo artists worldwide.
As well as his signature sailor jerry tattoos, Norman Collins lived a captivating life outside of the tattoo parlour – hosting his own radio show, playing in a jazz band, and captaining a three-masted schooner boat that toured the islands around Hawaii.
Although he passed away over 40 years ago, Sailor Jerry's tattoo art and his life remain a blueprint and an inspiration for those who live to the beat of their own drum.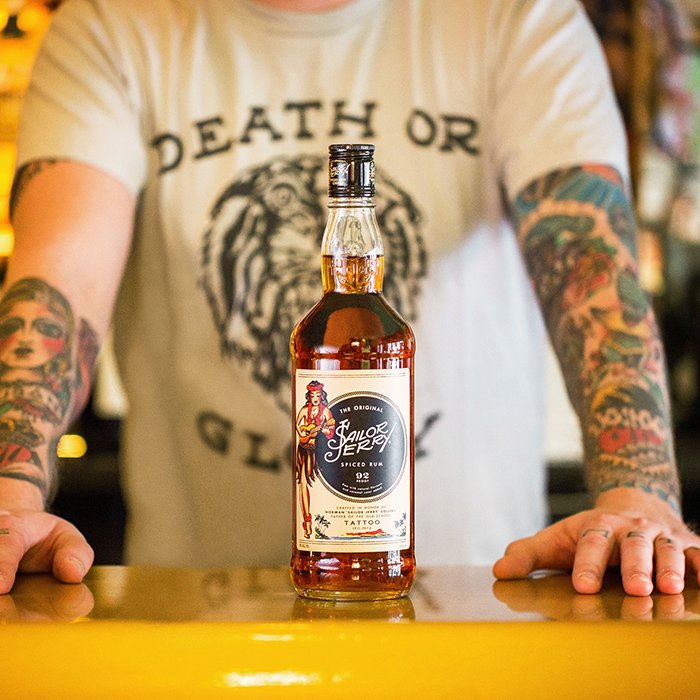 Why is Sailor Jerry Spiced Rum named after Sailor Jerry?
Much like the man himself, Sailor Jerry rum isn't afraid of going against the grain.
When Collins was at sea, he and his shipmates would infuse their rum rations with spices to make it easier to drink. And so, what better way to pay tribute to a man who spent so much of his life travelling the oceans than by celebrating those familiar mahogany hues and spiced flavourings.
Now you know more about Sailor Jerry, including the legend behind the drink, try it below…